7 Car Shopping Tips That Will Make Your Experience Easy
We at Coastal know that car shopping can be an exhausting and difficult thing.  We want it to be an easy, fun, and rewarding experience.  So, we've compiled a short list of tips that will make your experience easy and fun!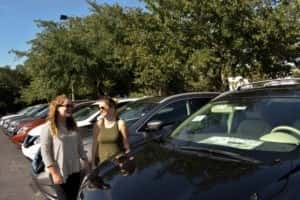 1.If you are trading in your car, spend a little bit of money to have it detailed. It shows that you take good care of your car (even if you have neglected it just a little bit).  This could result in receiving more money in your trade!
2. Do some research! Yeah, of course, this is a little bit obvious, but if you're like me, you don't know what you want until you see it.  So, check out what a dealership has in stock.  Know what you want, even if it's just a short general checklist.
3. Piggy backing right off of that one, make a list of your priorities! Do you want heated seats? Trunk space? A third row? A CD player? Know what you want, but also know what you want most and what you may be willing to compromise on.  Think about what you like and dislike about your current car to help jumpstart your ideas.
4. Write it down!  Yes, ALL of your questions, comments, and concerns. I know, I know, duh!  But it's so easy to think 'I will definitely remember that question when I'm at the dealership' and then totally blank in the moment.  Write them down!
5. Make sure to bring: your insurance card, the title of your current vehicle, the records of any servicing you've had done on your car, your questions, and your research! So many people think that they shouldn't bring in other quotes or their comparisons or their notes, but it is encouraged!  We want you to leave happy with the decision and the price.
6. Bring a friend! Not only can car shopping be stressful, but it can also be fun!  Bringing a friend is a surefire way to make sure that the stress is a bit more manageable and that the fun is turned up a few clicks.  Not to mention, it's always great to have a second opinion!
7. The best deal you will get is in person! It isn't at the end of the month. It isn't on Labor Day.  It isn't before Christmas (although there may be sales during holidays).  When a salesman sees you, in person, they want you to leave satisfied.  You are much more likely to receive the best price and the best service in person!
Learn more at:  http://www.coastalsaves.com/blog/