Best Time to Enjoy and Experience Easter and Good Friday in Pawleys
Early spring is such a great time to enjoy the Carolinas, and the Pawley's Island/Murrels Inlet area is rich with plenty of things to do around Good Friday and Easter! Whether you love the outdoors or nightlife or dining, check out some of the great stuff to enjoy around Pawley's: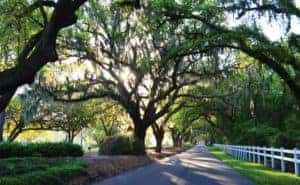 Brookgreen Gardens: The Low Country is so rich in history and culture, and Brookgreen Gardens is a national historic site that boasts a great collection of American figurative sculpture, all set in an idyllic botanical garden. While at Brookgreen, also be sure to check out the Low Country Zoo and the history exhibits. Located in Murrels Inlet, Brookgreen Gardens is open year-round, with seasonal exhibits. Members of Brookgreen Gardens are invited to the Easter Eggstravaganza, complete with a la carte morning snacks and appearances by Peter Rabbit, Squirrel Nutkin, Jemima Puddle-duck and other faves from Beatrix Potter's tales. NOTE: pets are not allowed at Brookgreen Gardens.
Huntington State Park: This 2500-acre park is home to wetlands and marshes, as well as fishing and camping. It's only 15 miles from Myrtle Beach but Huntington State Park offers solitude and a return to nature that seems light-years away from the hustle and bustle of tourism.
Atayala Castle: Built in the early 1930s as a winter retreat, Atayala Castle is now part of Huntington State Park. The mansion itself was done in Moorish architectural style and boasted more than 30 rooms and a 3,000 gallon water tower that provided water for the home. The backside of the property faces onto the dunes and Originally built by the Huntington family, it's now home to many of Anna Huntington's sculptures.
Pawley's Island Historical District: Did you know that Pawley's Island is actually one of the oldest beach communities in the Carolinas? The architecture and history of the town is fascinating, with houses that were built as beach retreats rather than opulent mansions. It's interesting to note that many actually feature West Indian designs that were adopted to the climatic conditions of the Low Country. The Historic District includes homes that were built from around 1780 to the post-WWI period — some weatherbeaten and some pristine.
Island Art Gallery: Nestled into the Village Shops complex, the Island Art Gallery is home to art exhibits from local and regional artists. The gallery also offers classes and events — feel free to click on their website to keep up to date.
Hammock Shops Easter Egg Hunt: Locals love the annual Easter Egg hunt at Hammock Shops, complete with face painting, balloon art and an appearance by the Easter Bunny. This event is great fun for the entire family and is free of charge.
Pawleys Island General Store: The General Store is a longtime favorite of those on the island, offering local handmade arts and crafts like driftwood, sculptures, etched glass, jewelry and other fun stuff. You can also find locally-sourced produce and organic veggies — just sign up for their newsletter so you can stay up to date.
Litchfield Beach: If you're headed to the Low Country, of course you have to spend time at the beach! Litchfield Beach is fairly developed with vacation homes, but it still offers pristine sand and dunes and is a perfect spot for shelling, fishing, swimming and even surfing.
If dining is your thing, you can enjoy Easter brunch specials at Gulfstream Cafe, Dead Dog Saloon, Webster's Low Country Bar and Grill and Saltwater Creek Cafe. Sea View Inn offers specials on Easter weekend, and there's even an Easter egg hunt at Passive Park in the nearby town of Surfside.
So did you get some ideas for things to do at Pawley's Island? See you there!