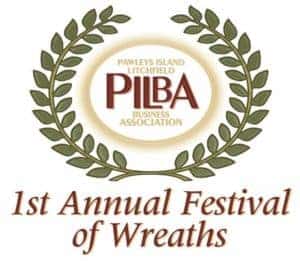 PAWLEYS ISLAND, SC – To help those affected by Hurricane Florence and its flooding aftermath, the Pawleys Island Litchfield Business Association (PILBA) is sponsoring a Festival of Wreaths, beginning Thursday, November 29, at the Island Shops in Pawleys Island. Courtesy of PoBuckra Properties, the event will be held in the vacant retail space behind Rustic Table restaurant.
Area artists and designers are creating and donating wreaths to be included in a silent auction during the Festival. Bidding will commence at a private Preview Party for PILBA Members on Thursday, November 29, and will continue through Saturday, December 1. The winners will be announced at a Pick-Up Party on Sunday, December 2.
All proceeds from the Festival of Wreaths will be donated to the Black River United Way Hurricane Disaster, Recovery and Resilience Initiative and will benefit Georgetown County families directly affected by the storm and subsequent flooding.
"PILBA is delighted to host the festival," said David Gundling, President of the organization. "We want to help victims of the hurricane, and we also want to bolster "Shop Small" and "Shop Local" initiatives in Pawleys Island and Litchfield in time for Christmas."
"We urge everyone in the Waccamaw Neck Area to participate by donating a wreath, sponsoring an artist, volunteering at the Festival, and especially by bidding on the beautiful wreaths on display during the Festival," said Event Chair, Troi Kaz.
To ask questions, submit a wreath or volunteer for the event, email joinpilba@gmail.com.