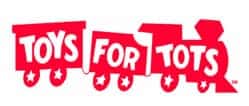 We are a proud drop off station for Toys for Tots. This organization helps families nationwide but locally we are collecting for families in Georgetown County. Please bring your new unwrapped toy to Coastal Chevrolet Cadillac (8559 Ocean Highway, Pawleys Island), Coastal Nissan (8519 Ocean Highway, Pawleys Island), or Coastal Car Wash (9123 Ocean Highway, Pawleys Island) from now until December 10, 2018.  The primary goal of Toys for Tots is to deliver, through a new toy at Christmas, a message of hope to less fortunate youngsters that will assist them in becoming responsible, productive, patriotic citizens.
The Toys for Tots team is comprised of local volunteers and Marines committed to achieving the mission and satisfying the goal stated above. The Team is supported directly by the Georgetown office of the Salvation Army. Their invaluable assistance includes, at a minimum, administering the application/registration process, receiving and sorting new toys donated and the final distribution of those toys just prior to Christmas. Additionally, the Salvation Army provides clothing and food to those families having completed the application process. During the past thirteen years, toys and monetary donations have been generously provided by the businesses and people from within our County.
If you would like to apply to be a recipient of Toys for Toys in Georgetown County, SC this year please click here for more information and to apply.