National Pet Week At Coastal
It's National Pet Week!
What better way to celebrate National Pet Week than with a donation to an awesome shelter or bringing a new member into your family by adopting!
From May 7th – May 12th, 2018 Coastal Chevrolet, Cadillac, and Nissan are opening up their showroom to all animals lovers. We will have information about the animals up for adoption from Saint Francis Animal Shelter in Georgetown, SC.  We will also be collecting money for this shelter as well. Saint Francis's mission is to provide a safe and nurturing environment for abandoned and mistreated dogs and cats until they can be placed in loving homes. Originally set to house 50 animals, the shelter was founded in 1983 by a small group of community members concerned about the plight of the area's soaring population of homeless dogs and cats. Saint Frances is also contracted with the City of Georgetown and the County of Georgetown to intake all animals they pick up. This includes court cases, hoarding cases, abandoned and strays. The Center has come a long way and today they have over 100 animals in the care of a licensed veterinarian and our incredibly committed staff on any given day.  The St. Frances staff nurses them to health, feeds, vaccinates, spays/neuters, and socializes them.  They then work tirelessly to find them forever homes. Which is why we need your help! Even just awareness of the shelter can be a big help in housing and provide funding for these wonderful animals.
You can find the list of animals available for adoption here – http://www.sfanimals.org/adoptions/
We will have adoption information and donation stations open all week till Saturday in the dealership. Please stop by to support Saint Francis.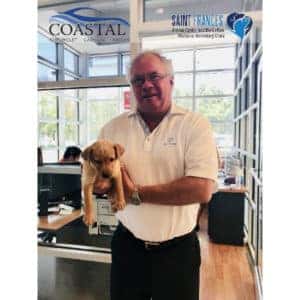 Click here for our hours of operation and address: https://www.coastalsaves.com/about-us/