Sales Professionals Can't Wait Till We Cut Ties!
You may be asking why our team members would ever want to cut ties!!! Well, as a rite of passage here at Coastal Chevrolet, Cadillac, and Nissan, all our "newbie" sales staff are part of an industry age ol' tradition of cutting their actual tie upon making their first sale. It's like a new business ribbon cutting, only better! From the moment they embark on the journey of being a Coastal Chevrolet, Cadillac, or Nissan sales professional, our team members can't wait till the day where we take out those scissors (don't worry, for our non-tie wearing ladies we provide them with one). This fun tradition is carried on in the industry all over the United States and lives on here today with our sales professional Dan Fanning.
Congratulations Dan on selling your first car!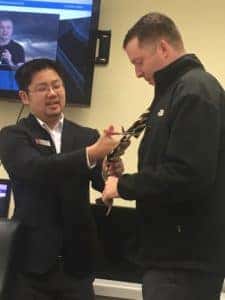 Dan Fanning – Coastal Nissan 3/15/18
Want to be a part of the tradition? We are currently hiring for sales professionals! Contact us today to submit your resume.